Room "Caterina"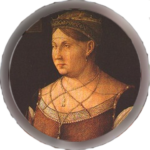 This room is dedicated to Caterina Cornaro, born in Venice in 1454, died in Venice in 1510, Queen of Cyprus and Lady of Asolo.
The room is equipped with a double bed.
The bathroom has a sink, toilet, bidet and a Whirlpool®.
There is air conditioning and WiFi Internet connection.
From the windows you can enjoy views of the large garden.
---